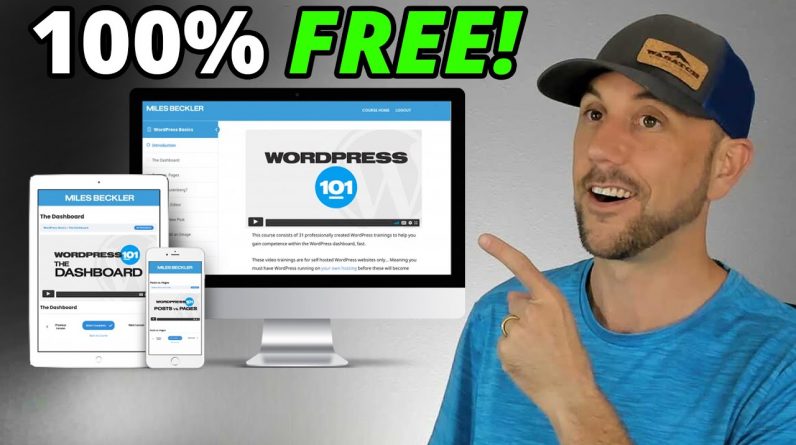 New For 2021! WordPress Tutorials will teach you how to use WordPress like a pro. Get instant access to 30+ WordPress training videos here: https://www.milesbeckler.com/wordpress101
Having a self hosted WordPress blog that you own is required for building a real business online. It is not enough to simply build a YouTube channel or Instagram account if you want to build a true long-lasting business online.
This means that you must learn the WordPress basics in order to succeed online in 2021 and beyond.
And it is important for me to remind you that you need to build a full business online, not just a blog. Your WordPress blog is an asset of the business… It is a part of your online business… But you need to build a real business, too
I teach the entire process of building a business online for free here on YouTube: https://www.youtube.com/watch?v=GF_p8q6qgHw
You will learn exactly how a WordPress blog fits into a broader online business in that video above if it still doesn't make sense!
Now, if you have not yet started your blog, I have a separate guide that will teach you how to start a blog here: https://www.milesbeckler.com/how-to-start-a-blog/
If this is your first video that you have found mine, you might be asking why I'm simply giving these WordPress tutorials that cost thousands to produce and host, away for free…
that's a fair question.
I've been earning income online since 2003 and have been full-time as an Internet entrepreneur supporting my family through blog income since 2010. if you want the full story, you can read more about me here: https://www.milesbeckler.com/about/
The short answer is that I've achieved my financial goals…
And there is a growing trend of shady YouTubers (I call them Fake Gurus and Greedy Gurus) who are selling overhyped and overpriced courses that are preying on people who are down on their luck.
This frustrates me deeply… So I've committed to teaching everything you need to know in order to grow a successful blog and a real business online here for free on YouTube.
This video here is number 635 on that path and I have helped over 63,000 people start blogs already.
I have mastered the process of starting a blog on WordPress and creating content in a way that generates traffic, leads and customers…
And I'm giving away 100% of the how-to information through these free WordPress tutorials and the rest of my videos on my channel.
One of the most requested trainings from my email list was "step-by-step WordPress trainings" that teach how to navigate the WordPress dashboard manage posts, pages, customize themes, etc…
So I created this video series to solve that problem and I posted it on my website so I can continually update the videos with newer versions when WordPress inevitably updates and changes the interface, in the future.
If I published them here on YouTube I could never update them. YouTube does not allow me to go in and update of video after publishing it.
it is important for you to take time to learn WordPress. The WordPress basics are not difficult to master and you should really understand everything you need to know about working within the WordPress dashboard within a couple of hours.
Your first time logging into the WordPress dashboard can be overwhelming. It's a completely new experience especially if you have never published a blog online before.
But no worries, even if you're a total beginner! these tutorials show step-by-step how to navigate WordPress, how to manage posts, pages, images themes and plug-ins…
Last note for now…
The only real reason why people aren't ready to start their blog is generally because they have not found their niche. if you find yourself in this position of not knowing what your niche is for your Internet business or your blog, be sure to go through my free how to choose a niche training here:
I hope these WordPress training videos are helpful for you on your path to building the blog an online business of your dreams.
Cheers,
Miles Beckler