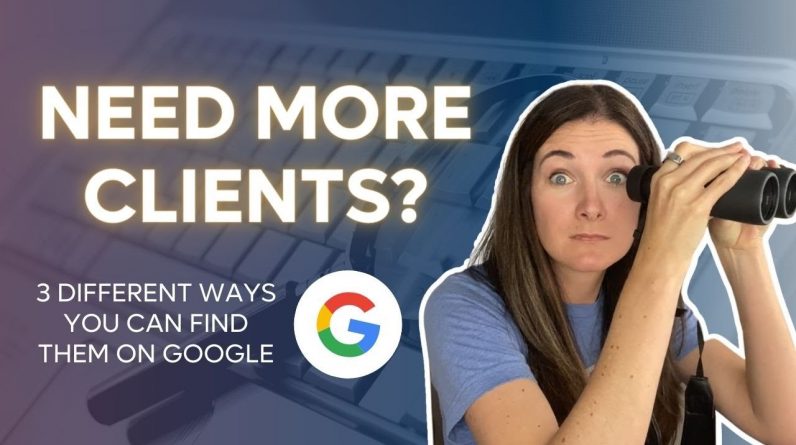 Have you ever thought of using Google to find clients? In this video we'll go through 3 different ways you can use this huge platform to find web design clients (including how to get clients to find you)!
//Google My Business Guidelines: https://support.google.com/business/answer/3038177?hl=en
//SUBSCRIBE: https://geekpack.com/youtube
//WATCH NEXT
🤓 My latest video: https://geekpack.com/latestvideo
🤓 Tips for Web Design Discovery Calls + What Questions Should You Ask: https://youtu.be/EXMtiQY4p5A
🤓 The BEST Thing About Working Remotely: https://youtu.be/m6OT_CgDhjI
//FREE FACEBOOK GROUP:
👩‍💻Screw the Commute🚗
Want weekly LIVE coaching calls and monthly LIVE training? Join our FREE community and learn how to start (and grow) a successful online business with support from like-minded people:
https://www.facebook.com/groups/sthecommute
//FREE 5-DAY CODING CHALLENGE:
Do you crave location independence? Do you want a profitable job skill you can do from anywhere? Do you have a hawkish eye for detail and love problem-solving? Discover the magic of code and learn the basics of coding languages like HTML & CSS to create your very own 2-page website in just 5-days… Even if you've never considered yourself techy! Sign up for the FREE WordPress Workshop get immediate access to all 5-days:
https://geekpack.com/5-day-43
//FREE ONLINE EVENT – GEEKAPALOOZA:
It's like Netflix for Geeks! Geekapalooza is an online event that will show you how ANYONE can start (and grow) their online business by embracing their Inner Geek. We're all about being unapologetically Geeky, having fun and empowering one another. Claim your FREE ticket here:
https://geekpack.com/geekapalooza-43
//COURSES:
⭐WP Rockstar + GeekPack®⭐
For Every 10 Online Service Providers Petrified To Touch Their Clients WordPress Websites… There's A WordPress Rockstar Who Can Confidently Solve ANY Website Challenge & Charge 5x Their Competition! Wanna learn more about WP Rockstar + GeekPack®? Grab your FREE WP Rockstar + GeekPack® Program Guide plus some FREE bonus giveaways: https://geekpack.com/info-43
⭐GeekPack® Create & Code Camp⭐
Join over 3,000 kids having fun discovering critical thinking and problem-solving skills inside the kids Create & Code Camp! Learn the fun way to code by building games instead of playing them! And don't worry parents, no supervision required… Enjoy that cup of coffee (or adult beverage) while your kid becomes the next Steve Jobs! (best for 8-years-old+):
https://geekpack.com/camp-43
//TOOLS & SERVICES I USE:
○ Hosting (FlyWheel) – http://geekpack.com/flywheel
○ Hosting (SiteGround) – https://www.siteground.com/go/geekpack
○ Domains (NameCheap) – https://geekpack.com/namecheap
○ StudioPress (Premium Themes) – https://geekpack.com/studiopress
○ Site Speed Plugin (WP Rocket) – http://geekpack.com/wprocket
//COME SAY HI:
Facebook: https://www.facebook.com/juliathegeek
TikTok: https://www.tiktok.com/@juliathegeek
Instagram: https://www.instagram.com/julia_the_geek/
Pinterest: https://www.pinterest.com/julia_the_geek/
LinkedIn: https://www.linkedin.com/in/juliathegeek/
//ABOUT:
DISCLAIMER: Links included in this description might be affiliate links. If you purchase a product or service with the links that I provide I may receive a small commission. There is no additional charge to you! Thank you for supporting my channel so I can continue to provide you with free content each week!
//CONTACT:
For all inquiries please info@geekpack.com