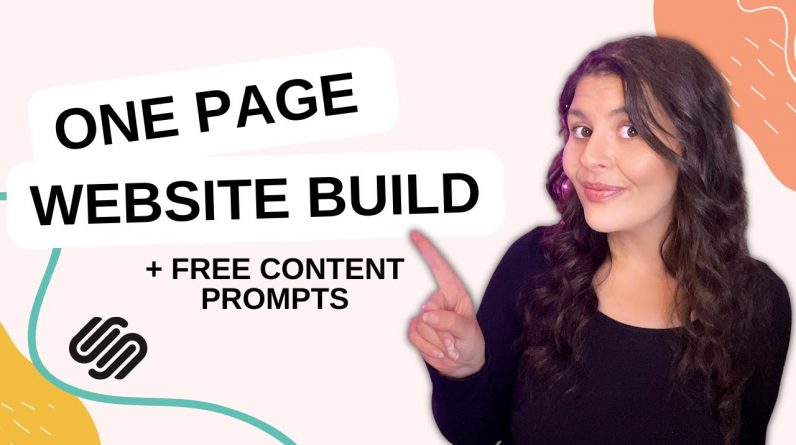 In today's video, we're going to build out a one page Squarespace website together, and we're going to do it in 30 minutes.
If you don't have a Squarespace account, you can sign up at chloeforbesk.com/squarespace (affiliate link) to build alongside.
Now to make this really easy, I've included done-for-you/fill-in-the-blank content prompts.
ACCESS FREE CONTENT PROMPTS HERE:
https://chloeforbesk.com/home-page-prompts
I've also included a number of related tutorials so you can dive in deeper to any section as required.
I hope you find this valuable. If you have any questions at all, let me know in the comments! ~ C
#squarespace #squarespacetutorial #onepagewebsite
REFERRAL LINKS:
Sign Up for Squarespace
https://chloeforbesk.com/squarespace
Sign Up for Google Workspace
https://chloeforbesk.com/workspace
Sign Up for Canva
https://chloeforbesk.com/canva
RELATED VIDEOS:
Free Squared Up to Sell Training
squareduptosell.com
Squarespace Fluid Engine Editor
https://www.youtube.com/watch?v=16F5D4xMNXc
Squarespace Tutorial 2022 (for Beginners!)

How to Change Fonts in Squarespace 7.1

Change Your Color Palette in Squarespace 7.1

Color Eyedropper Chrome Extension
https://chrome.google.com/webstore/detail/colorpick-eyedropper/ohcpnigalekghcmgcdcenkpelffpdolg?hl=en
How to Add ALT Text to Images in Squarespace 7.1

Redirect to a Thank You Page in Squarespace

How to Automatically Update Your Copyright Year in Squarespace

How To Create Anchor Links In Squarespace
https://chloeforbesk.com/blog/create-anchor-links-squarespace
Connect Any Domain in Squarespace 7.1

How to Make Your Squarespace Site Public

Install Google Analytics on Squarespace

NEXT STEPS:
Support This Channel
Hit Subscribe and Click the Bell (Thank you!)
Join My Newsletter
https://chloeforbesk.com/newsletter
Shop Squarespace Website Templates
https://chloeforbesk.com/templates
CONNECT:
Website – https://chloeforbesk.com
Twitter – https://twitter.com/chloeforbesk
LinkedIn – https://linkedin.com/in/chloeforbesk
—————————————————————————————————–
DISCLAIMER:
I do not work for Squarespace. The term "Squarespace" is a trademark of Squarespace, Inc. This content is not affiliated with Squarespace, Inc.
I do not own the rights to any of the music in this video.
—————————————————————————————————–
Hi, I'm Chloë. I show you how to build a beautiful and profitable website, the easy way, with Squarespace. I believe you can make things simple and significant.
If that's something that you're into, be sure to hit subscribe and leave a comment below. I'd love to say hello! 🙂
Date: 30th Aug 2022
Sub Count: 1972