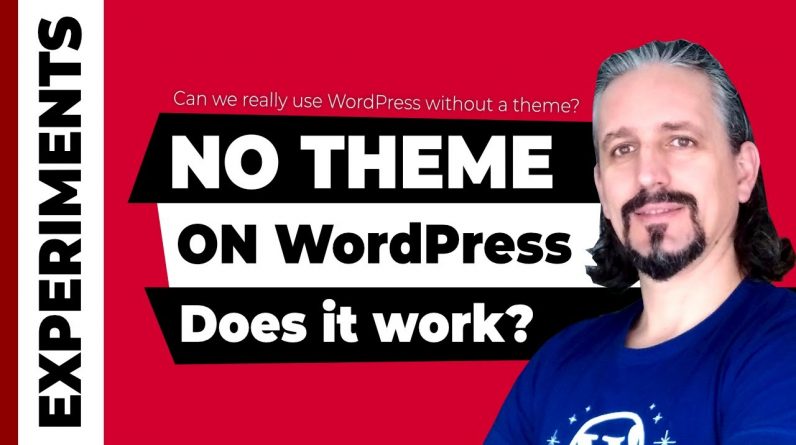 Have you ever wondered what's happening if you delete all themes in your WordPress dashboard?
I think you already know that WordPress doesn't work if there is nothing in the theme directory, but how can we test that without leaving the dashboard?
Let me show you a trick.
I will delete all of my themes tested lately, and most importantly, I will keep active a theme other than the default TwentyTwenty theme of WordPress.
That's because, in the next step, I will go through a process that will try reactivating the default theme.
The trick is to reset my WordPress website entirely.
As you can see, the reset process tries to reactivate the default theme of WordPress, but I've deleted that theme.
I can also delete the remained theme, and now I can say that my WordPress website doesn't have any theme on it.
Full WordPress website tutorial with Neve & Elementor: https://youtu.be/14wZnomo4io
Great resources and tools for WordPress:
🖥 Professional WordPress hosting from Siteground, with discount* – http://bit.ly/WPHostingOffer
⚙ Elementor: http://bit.ly/DownloadElementor
📸 Stock Photos: https://mystock.themeisle.com/
🔆 Free Icons: https://themeisle.com/free-icons/
💡 Domain Wheel – https://domainwheel.com/
⌛ Image optimization service by Optimole – http://bit.ly/Optimole
🔧 Orbit FOX – http://bit.ly/OrbitFOX
Keep in touch:
Our website → https://themeisle.com
Our blog → https://themeisle.com/blog/
Our Facebook page → https://www.facebook.com/themeisle/
*Affiliate Disclosure: Some of the links above are affiliate links meaning we may earn a commission if you click through and make a purchase. However, this does not generate an additional cost for you.
#Delete #WordPress #Theme