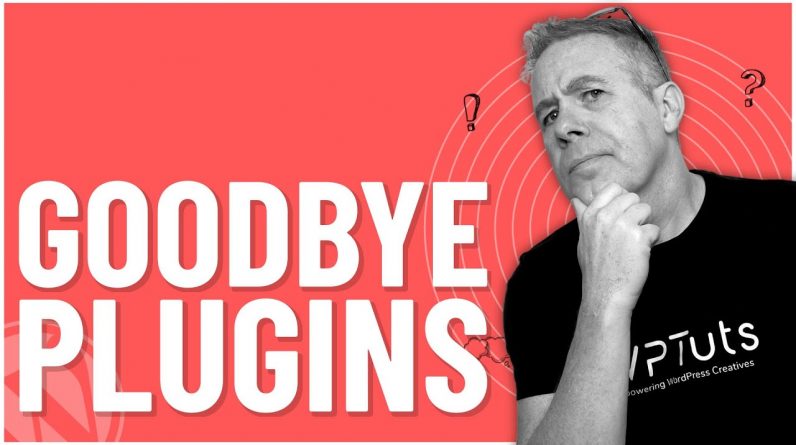 WordPress is great, but we tend to rely on WordPress plugins for almost everything. I'm going to share 8 practical ways in which you can streamline your installed plugins.
Reducing WordPress plugins has many benefits – speed, better security, fewer updates and more.
Say goodbye to plugin overload and a more stripped-back dashboard and faster loading WordPress website.
Time Stamps:
00:00 – Video contents
00:35 – Optimisation
05:28 – Code Generators
07:56 – Getting Meta
08:50 – Little Snippets of Code
11:41 – Streamlined SEO
15:10 – Complimentary Tools
15:50 – Better Back-ups
18:01 – More Speed Less Haste!
Essential Links:
TinyPNG/TinyJpeg: https://tinypng.com/
ShortPixel: https://shortpixel.com/
Squash (Mac app): https://www.realmacsoftware.com/squash/
Affinity Photo: https://affinity.serif.com/en-gb/photo/
GenerateWP: https://generatewp.com/generator/
MetaBox: https://metabox.io/post-type-generator/
WPHasty: https://www.wp-hasty.com/tools/wordpress-custom-post-type-generator/
CodeSnippets: https://jo.my/ndfbsx
Frase: https://frase.io/
Hemmingway App: https://hemingwayapp.com/
GeneratePress & GenerateBlocks: https://jo.my/atme3l / https://jo.my/xotgcy
KadenceWP & KadenceBlocks: https://jo.my/nu96im / https://jo.my/1hcktp
SiteGround: https://jo.my/sgwptuts
CloudWays: https://jo.my/1feeng8
CloudFlare: https://cloudflare.com
Take your WordPress website and skills to the next level!
► THE TOOLS I LOVE ◄
If you like what we do and would like to support us, please consider using these affiliate links when purchasing any of the plugins covered in our tutorials. Thank you for your support.
► EXCLUSIVE WPTUTS DISCOUNTS ◄
✅ WPVivid Backup Pro: https://jo.my/vividpro (use WPTUTS20 for 20% off)
✅ Project Huddle: https://jo.my/etafyp (WPTUTS for 20% off – Exclusive)
► MY PREFERRED HOSTING PROVIDERS ◄
✅ CloudWays: https://jo.my/1feeng8
✅ SiteGround: https://jo.my/sgwptuts
► WORDPRESS VISUAL PAGE BUILDERS ◄
✅ ELEMENTOR PRO: https://jo.my/1s0t2s2
✅ Brizy Pro: https://bit.ly/2Ji97r8
✅ DIVI 3 Page Builder: http://bit.ly/2HiiDcE
► WORDPRESS THEMES ◄
✅ GeneratePress Premium: http://bit.ly/2Ydn1SE
✅ OCEANWP: http://bit.ly/2fRHBr0
✅ DIVI Theme: http://bit.ly/2G8JMiA
✅ Astra Pro: http://bit.ly/2zruoKn
► WORDPRESS TOOLS ◄
✅ SMART SLIDER 3: http://bit.ly/2G0G1vB
✅ CSSHERO: http://bit.ly/2qbrRl6
► WORDPRESS PLUGINS ◄
✅ SEOPress Pro: https://jo.my/seopress
► SUBSCRIBE ◄
http://bit.ly/2rX7rhu
► LETS CONNECT: ◄
👉 Twitter: https://twitter.com/WPTutz
👉 Facebook Group: https://wptuts.co.uk/facebook
SUPPORT: Our website offers additional information and perks. Please check it out! http://wptuts.co.uk