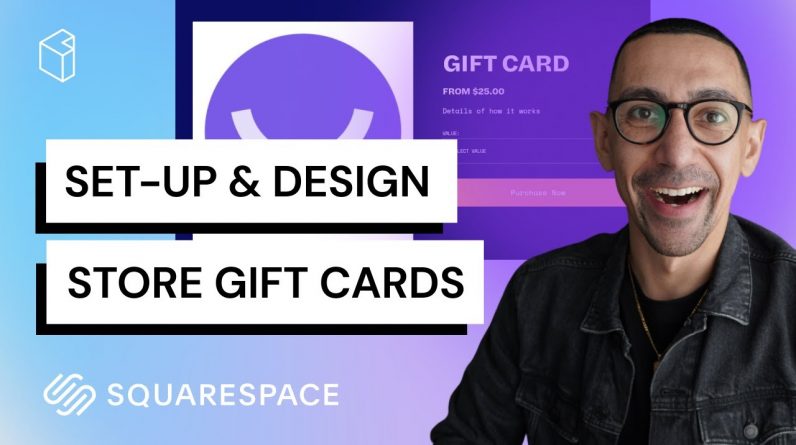 Do you have Squarespace E-commerce and want to know how to set up gift cards? Then, this video is for you!
TIMESTAMP
00:00 – 00:14 Navigate to Shop
01:05 – 03:04 Edit Details
03:05 – 04:13 URL Edit
04:14 – 07:01 Carts
07:02 – 08:09 Customize the Emails
08:10 – 09:28 Outro
_ _ _
I'm David, a search specialist, and beginner YouTuber from Orange County, CA. I started on Google Ads (also called SEM) and have managed over $3M in ad spend. I've also designed over 150 Squarespace websites. My team and I work on about 30 SEO projects a month and help companies get found on Google with SEO, SEM, or design a powerful website.
🫢Found this content valuable and want to buy me a coffee (or a book)?: [https://www.buymeacoffee.com/davidalex](https://www.buymeacoffee.com/davidalex)
❤️ Subscribe to the channel: https://www.youtube.com/c/DigitalEssentialist?sub_confirmation=1
😃 Subscribe to the channel: https://www.youtube.com/c/DigitalEssentialist?sub_confirmation=1
📢🙋♂️ FREE Squarespace Resources: https://launchhappy.co/resources
📢🙋♂️ FREE Squarespace Resources: https://launchhappy.co/resources
📢🙋♂️ FREE Squarespace Resources: https://launchhappy.co/resources
👩💻 Join the community here: https://go.launchhappy.co/community
Learn more about us (I get commissions for purchases made through some of these links, but I only promote things I like and believe in that I think you'd like, too.):
✍️ Favorite Note / Team App – NOTION: https://notion.grsm.io/launchhappy
💌 The Newsletter: https://launchhappy.co/newsletter
💻 Get Live Squarespace Help: https://launchhappy.co/support
💥 Headquarters | Launch Happy: https://launchhappy.co/
📖 The Blog | SEO Guides: https://launchhappy.co/guides
📼 Record Your Screen & Share A Link: https://loom.grsm.io/launchhappy
🎓 The Online Courses: https://squarespace.podia.com/
📱 Start Your Website Today on Squarespace: https://go.launchhappy.co/squarespace
———
🈳 Translate A Squarespace Site with WeGlot: https://weglot.com/?fp_ref=davidisk
📕 Need a Payroll service? Get up to $300 today https://gusto.com/d/david24465
⏺️ Need a live chat feature? Check out Tidio: https://go.launchhappy.co/tidio
💸 Looking to Robo-Invest? Try Betterment: https://go.launchhappy.co/betterment
👨🏫 Teaching Platform I Love – Podia: https://www.podia.com/?via=david-iskander
💳 Chase Business Credit Cards: https://www.referyourchasecard.com/21f/9TQVOVDYRQ
———
🧬 Sponsorships & Contact: email hello@spacebaragency.com