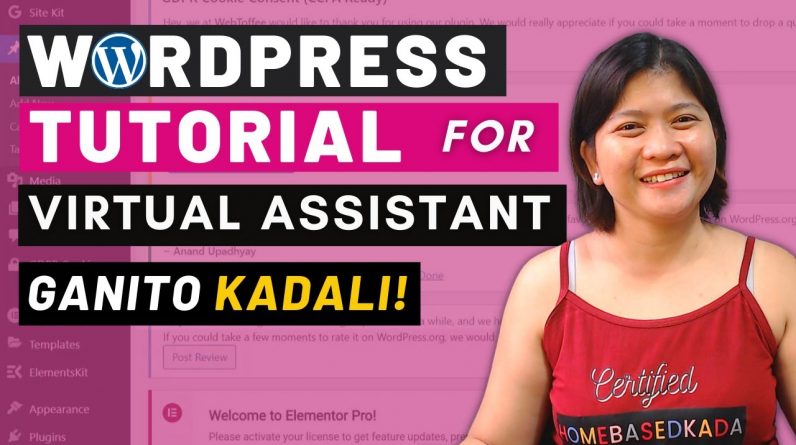 WordPress Tutorial PART 1 for Virtual Assistant or in any skill this can be used for. Watch and take notes or practice with me if possible.
00:00 How to Navigate Through WordPress?
01:36 What Do You Need From Your Client?
02:03 What is the Back-end?
02:28 What is a Domain?
06:55 Navigate Though the Users
08:59 What is the Front-end and the Benefit of Having Elementor?
10:50 How to Update Blog Posts?
15:39 Be Familiar with the Settings
16:01 How to Install Plugins?
💋FOR PART 2: https://youtu.be/X8a7y_-nhpU
⚠️To UPSKILLS and Join Our Marketing Automation COURSE: https://forms.gle/5cpUfiVTZksjtXqD9
⚠️ORDER the Tshirt for Marketing Automation and OTHER Customized design – https://shopee.ph/shop/510606157
👋NEXT VIDEOS TO WATCH:
🍒How to Build an Online Portfolio for free! Tuturuan kita Magayos ng iyong Online Portfolio – Canva https://youtu.be/I4fV3WzdjsI
🍒LEARN TO BE A VIRTUAL ASSISTANT | Saan magsisimula?

🍒Bakit nawala lahat? Online job Struggles

🍒Where to find clients as a Virtual Assistant

🍒How to choose your freelancing niche

————————–
SUBSCRIBE NOW
👉http://bit.ly/sheenasantosYT​
SHEENA SANTOS VLOG
👉http://bit.ly/sheenasantosvlog​​
=====================
REFERRALS AND AFFILIATES:
🌹Learn about Sales Funnel = elitefunneldesignersacademy.com (use SHEENA as code)
🌹Apply to Cyberbacker: https://bit.ly/SheenaCyberbacker
🌹Seduction Marketing https://aosmarketing.krtra.com/t/NXOwlVfoTRXc
🌹Activecampaign: https://mbsy.co/activecampaign/77901855
😘CANVA Account: http://bit.ly/createCANVAaccount​
😘Payoneer account: http://bit.ly/startwithPayoneer​
😘FIVERR Account: https://bit.ly/fiverrsheenasan​
😘TRANSFERWISE account: http://bit.ly/CreateTRANSFERWISEaccount​
😘GCASH account now https://gcsh.app/r/ZUJnpXo​​
🙏Create PIXLR account: https://bit.ly/2IXNH85​​
😘GET YOUR Invideo NOW and start creating your first Gig on Fiverr: https://invideo.io?ref=sheenasantos​​
——————–
PLAYLISTS:
👉SPECIAL VIRTUAL ASSISTANT PLAYLIST
https://bit.ly/VAGuidesPlaylist​
👉ActiveCampaign Tutorial
http://bit.ly/ActivecampaigntutorialHMD
👉Mailchimp Tutorial
http://bit.ly/MailchimpTutorialHMD
👉Freelancing and Online Job Skills
http://bit.ly/freelancingandonlinejobskills
👉ALL FIVERR Tutorial Videos
http://bit.ly/FiverrGuidesPlaylist​
****************************
LET'S CONNECT:
🍓Youtube: Bit.ly/sheenasantosYT
🍓FACEBOOK GROUP
https://www.facebook.com/groups/homebasedmomdiaries
(Make sure to answer all questions)
🍓FACEBOOK PAGE: https://www.facebook.com/homebasedmomdiaries
🍓INSTAGRAM: https://www.instagram.com/homebasedmomdiaries
🍓TIKTOK: https://www.tiktok.com/@homebasedmomdiaries
===============
I'm OPEN for Collaboration and Sponsorship, send me a message at homebasedmomdiaries at Gmail (dot) com – THIS IS MY ONLY BUSINESS EMAIL, BEWARE OF POSERS!!
I also accept PR packages!
=========================================
#WordPresstutorial #virtualassistantnoexperience #sheenasantos