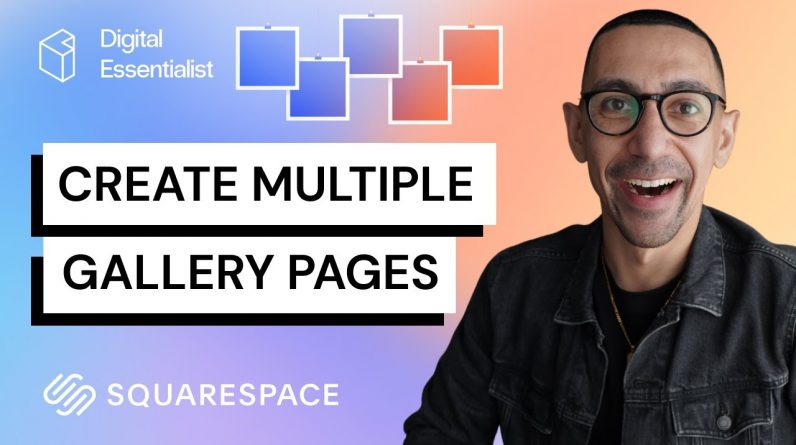 Add multiple pages to your gallery with these styling tips!
Timestamps:
00:00 – 00:40 Intro
00:41 – 02:27 Creating Gallery within a Page
02:28 – 05:20 Linking your Pages within a Gallery
05:21 – 07:46 Using the Portfolio Feature
07:47 – 09:17 Customization For Portfolio
09:18 – 10:34 Outro
—
I'm David, a search specialist, and beginner YouTuber from Orange County, CA. I started on Google Ads (also called SEM) and have managed over $3M in ad spend. I've also designed over 150 Squarespace websites. My team and I work on about 30 SEO projects a month and help companies get found on Google with SEO, SEM, or design a powerful website.
❤️ Subscribe to the channel: https://www.youtube.com/c/DigitalEssentialist?sub_confirmation=1
😃 Subscribe to the channel: https://www.youtube.com/c/DigitalEssentialist?sub_confirmation=1
📇 FREE Resources!!!!!: https://spacebaragency.com/resources
☎️ Phone Consultations (15min-2hour options): [https://superpeer.com/davidalex](https://superpeer.com/davidalex)
Learn more about us (I get commissions for purchases made through some of these links, but I only promote things I like and believe in that I think you'd like, too.):
💌 The Newsletter: https://spacebaragency.com/newsletter
💻 Get Live Squarespace Help: https://spacebaragency.com/expert
💥 The Agency | Spacebar Agency: https://spacebaragency.com/
📖 The Blog | SEO Guides: https://spacebaragency.com/guides
📼 Record Your Screen & Share A Link: [https://loom.grsm.io/hgw9qbjkxgda](https://loom.grsm.io/hgw9qbjkxgda)
🎓 The Online Courses: https://squarespace.podia.com/
📱 Start Your Website Today on Squarespace: https://squarespace.syuh.net/c/2501235/968202/9084
———
🈳 Translate A Squarespace Site with WeGlot: [https://weglot.com/?fp_ref=davidisk](https://weglot.com/?fp_ref=davidisk)
🥑 Vegan Meal Delivery Service I LOVE – Get $50 today: https://www.thistle.co/referral/DAV331418
📕 Need a Payroll service? Get up to $300 today https://gusto.com/d/david24465
📑 Need A Bookkeeper? Checkout Bench: Sign up for a Free Month: https://bench.grsm.io/davidiskander599
⏺️ Need a live chat feature? Check out Tidio: https://www.tidio.com/en/?ref=spacebar
💸 Looking to Robo-Invest? Try Betterment: betterment.com/?referral_key=davidiskander
👨‍🏫 Teaching Platform I Love – Podia: https://www.podia.com/?via=david-iskander
💳 Chase Business Credit Cards: https://www.referyourchasecard.com/21f/9TQVOVDYRQ
———
🧬 Sponsorships & Contact: email hello@spacebaragency.com